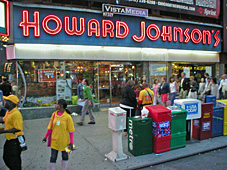 I was going to do another Monday morning book review (which I will put up tomorrow) but today I wanted to blog about the closing of the Howard Johnson's in Times Square. After fifty years of existence, the HoJo's in Times Square closed for good last Friday here in New York, putting a period on the end of an era. The old Times Square, the pre-Guiliani, pre-Disneyification of Times Square, the Times Square before chain restaurants and the Virgin megastore Times Square. The Times Square that I grew up with.
When I was growing up in New York, we didn't spend much time in Times Square, particularly 42nd Street, which my mother refused to walk down even to get to Port Authority. But I still remember going to see Star Wars at the Loews Astor Plaza 2 or 3 times in one day, and then heading over to HoJo's for ice cream.
I grew up with HoJo's. Every Sunday we would stop at the HoJo's in Kingston for lunch before we headed back to the city. It was a ritual. My mother would have to pull me out of the flowers that lined the front of the walkway because I was constantly trying to pick them. The food was not haute cuisine, but I loved the fried clams and the hot dogs, not to mention the ice cream. Who didn't love Howard Johnson ice cream? The first time I had mint chocolate chip ice cream (my favorite) was at a HoJo's. I used to buy the frozen clam strips, and the macaroni and cheese which was so much better than Stouffers (in my humble opinion).
Howard Johnson's was founded in 1925 in Quincey Massachussetts. The founder, Howard Johnson had taken over his father's old pharmacy and soda shop, and was determined to make it work despite the fact that he owed $40,000, a considerable sum even back in those days (in today's money that would probably be about close to a million dollars).
He was one of the first people to try franchising. He envisioned a chain of Hojo's across the country but couldn't afford it, so he convinced a businessman on Cape Cod to use the name Howard Johnson's on his restaurant. They soon expanded into motels (I've stayed at several HoJo's over the years). For more information on the history of HoJo's, check out the website
HoJoLand
for more information, and for a stroll down memory lane. According to the website, there are only 5 Howard Johnson restaurants left in the U.S.
At one point, sales at HoJo's exceeded those of McDonald's, Burger King, KFC, and other chain restaurants. Did you know that HoJo's created the Ground Round restaurants?
It's a shame, that in the name of progress, we've lost so much of our history. There are no more Woolworth's, no more Chock Full of Nut's, no more Schraffts. Luchow's is gone, and Gage and Tollner closed in Brooklyn earlier this year. It's a shame that nothing was done to declare the Times Square site a historical treasure.
Now's it's gone, but the memories will live on in those who ate there.